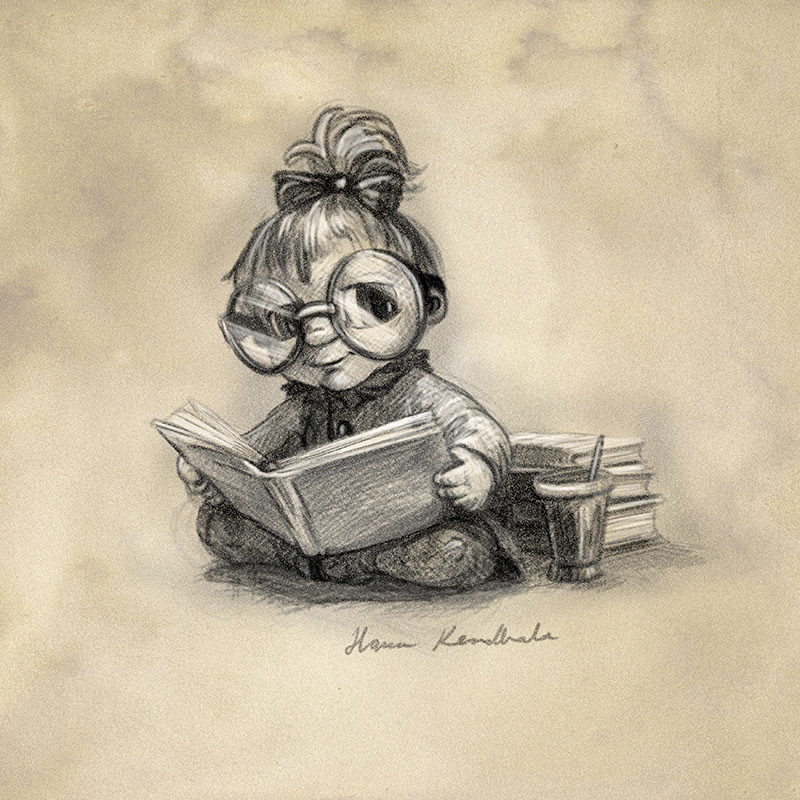 I am a freelance illustrator and designer living in Finland. I've designed web-layouts, logos and various print materials such as brochures and business cards to different clients.

Nowadays I am passionate about illustration and storytelling. I love books, games, movies and animations and would love to be a part of creating their visual world. I love stories and storytelling, imagining the world, events, history and culture where the characters are living. Finding out who they are and what motivates them. What their world looks like and how this affects the look of the characters. In short, how to build believable and unique characters and universes.

I love drawing and painting traditionally and mixing traditional with digital techniques. I also enjoy designing vector graphics and assets. I have designed patterns and images that could be applied to various merchandise and apparel such as t-shirts and fabrics. I am able to deliver various styles and it is important for me to deliver on time.

Feel free to approach me with your project. I am looking forward to working with you.

Hanna Kenakkala
Esittely
Olen kuvittaja ja graafinen suunnittelija. Olen suunnitellut web-sivujen ulkoasuja, logoja ja erilaisia printtimateriaaleja, kuten esitteitä ja käyntikortteja.
Olen kiinnostunut erityisesti kuvittamisesta ja tarinankerronnasta. Pidän kirjoista, peleistä, elokuvista ja animaatioista ja haaveenani on olla mukana suunnittelemassa niiden visuaalista maailmaa tai kuvia. Minusta on mielenkiintoista kuvitella minkälaisessa maailmassa ja kulttuurissa tarinan hahmot elävät ja mitä he haluavat. Miltä heidän maailmansa näyttää ja tuntuu ja miten tämä vaikuttaa hahmoihin. Toisin sanoen minua kiinnostaa se kuinka rakennetaan uskottavia ja aitoja hahmoja ja maailmoja.
Piirrän sekä perinteisesti, että digitaalisesti ja sekoitan mielelläni tekniikoita keskenään. Pidän myös vektorigrafiikan suunnittelusta. Olen suunnitellut kuvioita ja kuvia, joita voidaan hyödyntää erilaisissa oheistuotteissa ja asusteissa, kuten t-paidoissa. Pystyn mukautumaan asiakkaan tyyliin ja minulle on tärkeää pysyä sovituissa aikatauluissa.
Onko mielessäsi projekti, josta haluaisit keskustella? Ota yhteyttä!

Hanna Kenakkala
Yhteystiedot/Contact information:

Hanna Kenakkala – 2D Illustration and Graphic Design / Kuvittaja
Hanna.Kenakkala(at)gmail.com
Finland

Interested in:
Illustration and Visual Development, Concept Design, Character Design.
Previous experience:
weblayouts, printmaterials, graphic design, illustration, vectorgraphics and patterns.

Taidot/Skillset

Kuvittaminen / Illustration
Digital Painting
Character Design and Visual Development
Graafinen suunnittelu / Graphic Design
Vector Graphics
Traditional drawing and painting
Photography
Adobe Photoshop
Adobe Illustrator
Adobe Indesign
Basic knowledge of Wordpress (and other web editors)


Finish (native)
English (excellent)
Swedish


Lapin Ammattikorkeakoulu, Kuvataide.
Lapland University of Applied Sciences, Art
Keski-Pohjanmaan Aikuisopisto: AV-Viestinnän perustutkinto, AV-Viestinnän ammattitutkinto
Lapin Yliopisto: Kuvataiteen perus- ja aineopinnot, avoin yliopisto
University of Lapland: Open University basic and advanced studies of Art
Keski-Pohjanmaan AMK: Taloushallinto ja rahoitus
Central Ostrobothnia Polytechic: Bacheror of Busines Administration
Kalajoen lukio
Kurssit ja muu koulutus/Courses and other training:
The Vilppu Academy – figure drawing, anatomy, composition
Piirros- ja maalauskursseja / Various art courses on painting and drawing.
New Masters Academy web courses
SVS Learn online courses